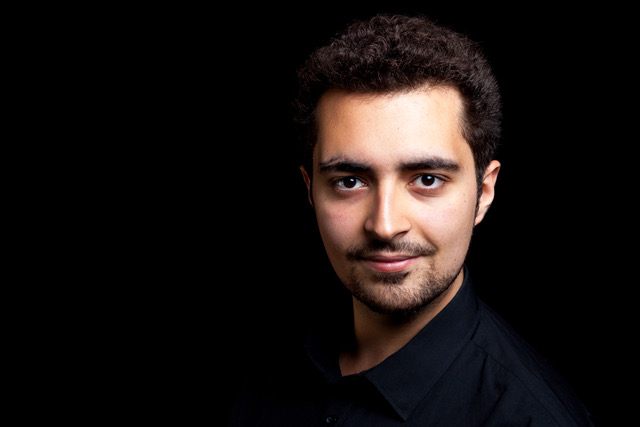 Enrique Carlsson was born in Madrid in 1996 and received his first violin lessons at the age of 5 from Tsumio Tsubaki in Düsseldorf.

Upon moving back to Madrid at the age of 9, his studies continued with Pablo Suárez, and then 4 years later with Olga Vilkomirskaya. Alongside his violin studies, he received further tuition in piano (Ute Kandert), ear-training & theory (Leopoldo Errea).

His education has been further enriched through participation in masterclasses with David Quiggle, Charles Bingham, Alfredo Garcia, Christof Polyzoides and Prof. Andreas Krecher.

After finishing his Abitur at the German School in Madrid, he was offered a place at the age of 17 to the Robert Schumann Hochschule, Düsseldorf, to study violin performance under Prof. Michael Gaiser. These studies were completed in the summer of 2018, excelling in musicology. From 2017 to 2021, he additionally studied music theory with Prof. Hans Peter Reutter with a focus on arranging and orchestration. Further studies in jazz arranging and composition at Berklee College Of Music (Professional Certificate). After successfully completing the master's program in musicology in the summer semester of 2020, he was accepted into the musicology doctoral program under Prof. Dr. Dr. Volker Kalisch.

Since the winter semester 2020/21, he has been teaching music theory at the Musicological Institute of the Robert Schumann University (initially on a substitute basis, since 2021 as a lecturer). This employment was preceded by a three-year position as tutor (teaching assistant) for music theory.

In 2012, Enrique Carlsson was accepted into the Joven Orquesta de la Comunidad de Madrid as their youngest member. This was followed by continuous orchestral engagements: membership and participation with numerous orchestras, including Landesjugendorchester NRW, the orchestra of Sommer Oper Bamburg and the Jungen Deutschen Philharmonie, and cooperations with the Orquesta de la Comunidad (Spain), Jöngköpings Sinfonietta (Sweden), and the Düsseldorfer Symphoniker. He is often invited to lead orchestras, including the Beethoven Orchester Hessen, the Junge Norddeutsche Philharmonie, and the symphony orchestra of the Robert Schumann Hochschule.

Collaboration in chamber music ensembles has also contributed to his concert experience. With string quartets, piano trios, string sextets and ensembles, he has performed on stages including the Circulo de la Amistad (Córdoba, Spain), the Leo Kultursaal (Bad-Leonfelden, Austria), the Villa Concordia (Bamberg) and the Beethoven Haus (Bonn, Germany). Enrique Carlsson has additionally been involved in contemporary music projects with Gunda Gottschalk, Sebastian Gramms, the EOS Kammerorchester and the specialty founded Takano Quartet.

Since his second degree, Enrique Carlsson is active as an arranger and orchestrator. His arrangements have been performed internationally, as part of the Schleswig-Holstein Musikfestival and the Euregio Festival, the international masterclass La Ribera Siena a Classico (Valladolid, Spain), and in the Whitney Museum of American Art (New York), the La Plantation Concert Hall and Forbidden City Concert Hall (Peking, China) and in the Elbphilharmonie (Hamburg, Germany). Enrique Carlsson's first orchestral work Fantasy Overture was premiered on 27th July 2018 in Garmisch-Partenkirchen, Germany, as part of the Bavarian State Exhibition.